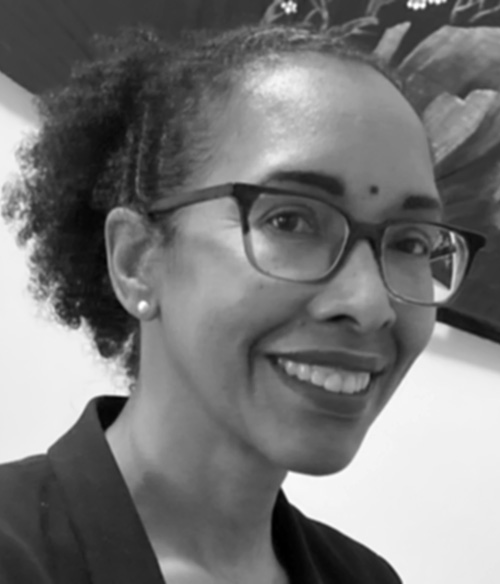 Max Elliott
Esq., Founder and Managing Attorney
Maximillienne "Max" Elliott, our firm's Founder and Managing Attorney, practices with the compassion and sensitivity required to maintain family harmony for our estate planning clients and authenticity and pragmatism for our smallbiz clients. She is licensed to practice in the State of Illinois and has represented clients with large and modest estates, challenging negotiations, multi-jurisdictional probate matters, guardianship involving minors and disabled persons, and family-owned business planning. With clients whose interests span the globe, Max's current focus is on international estate planning.
Max routinely speaks to lawyers, students, and community groups. She is a staunch supporter of marriage equality, educating colleagues and the public on the adverse effects of the so-called Defense of Marriage Act (DOMA) and was elated to celebrate the Supreme Court's historic ruling in Obergefell v. Hodges that established marriage equality across the nation for all LGBTQ couples.
Max is a volunteer faculty member for the Illinois Institute for Continuing Legal Education (IICLE), faculty for Lawline – a Manhattan-based CLE provider for attorneys nationwide, faculty for Esquire CLE, member of the U.S. Trust, Bank of America Center on Influence on estate planning, and a member of the Executive Committee of the Chicago Bar Association Trust Law Committee.
Before launching her practice, Max was a law clerk in a boutique tax litigation firm, assisting the principal in probate, domestic relations, corporate records, non-profit corporation compliance, and estate planning.
In addition to her legal experience, Max has more than 20 years of non-legal employment experience, including many years in the American Bar Association's International Liaison Office in the President's Office and several years with Fortune 500 companies.
Throughout the years, she has also assisted entrepreneurs in creating viable business planning solutions. This experience and her compassion for the philanthropic efforts has also guided Max to become General Counsel of The Bernie Mac Foundation.
Max has received numerous awards for her commitment to the community and is an active volunteer member of several legal organizations, including the Chicago Bar Association and the Illinois State Bar Association.
Also, because of her strong commitment to public service, she also supports Chicago Women's Health Center (CWHC), a women's medical collaborative center providing healthcare services to women living alternative lifestyles and those in the LGBTQ community; Marillac St. Vincent, which serves low income families throughout Chicago; Heartland Alliance for its work to end poverty; MetroSquash, an organization that literally takes inner city youth from grade school to college, and the DePaul Law Black Alumni Foundation.
Living in Chicago, Max is happily married with 2 charming stepsons and a darling niece.
Chicago
605 N. Michigan Ave.
Suite 400
Chicago, IL 60611
New York
122 West 27th Street
10th Floor
New York, New York 10001
Awards & Recognition